Georges Seurat
Paris 1859 - Paris 1891


Georges Pierre Seurat was born in Paris on 2 December 1859. During his schooldays Seurat was inspired by his uncle to start painting, later he attended drawing classes at the evening school and finally enroled at Henri Lehmann's class at the École des Beaux-Arts.
The following year he visited an exhibition by Impressionists; in 1880 during his military service he read David Sutter's "Die Phänomene des Sehens", in 1881 Odgen Rood's "Wissenschaftliche Theorie der Farben" - the basics of his later painting style were established.
In 1885 Seurat undertook the precursing overwotk of his painting "La Grande Jatte" in a pointillistic style. The painter Paul Signac, whom he got to know the year before at the foundation of the group des Indépendants, became his combatant for a scientific painting of a divisionistic colour rendition.
When Georges Seurat presented his famous painting to the public at the Impressionists' exhibition in 1886, he also gained the critic Félix Fénéon's support, who explained in his articles Seurat's technique of colour deconstruction to the public. The following year Seurat and Signac participated in an exhibition of the Belgian group "Les XX", who got into new painting styles. Together with Signac and several other painters Georges Seurat founded Neo-Impressionism and even the aged Camille Pissaro was carried away by the continuation of Impressionism.
Due to his secret relationship with the model Madelaine Knoblock, Seurat withdrew from public life in 1889, the relationship with his family, especially his mother, his friends and colleagues suffered. He was deeply hurt when his old friend Fénéon did not mention him in a text on Signac in 1890, nor as a theoretical precursor and founder of the group of Neo-Impressionists nor as artistic role model. On 27 march 1891, shortly after the exhibition of his unfinished painting "Le Cirque" at the Salon des Indépendants, Seurat fell severely ill. The next day he travelled with his family to his mother, who found out then about Madelaine, her pregnancy and her Seurat's illness.
Georges Seurat died in Paris on 29 March. Today his name is linked with pointillistic painting and his paintings are known world-wide.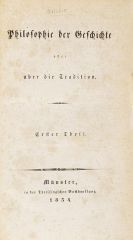 Martin von Molitor
Philosophie der Geschichte. Tle. 1-3 (von 4) in 2 Bänden
666 $
Details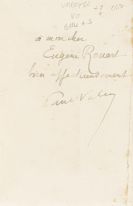 Paul Valéry
La Fontaine, Adonis
444 $
Details